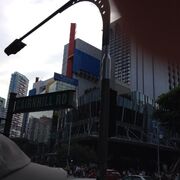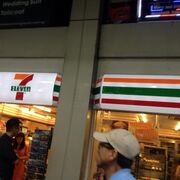 Orchard Road is a 2.2 kilometre-long boulevard that is the retail and entertainment hub of Singapore. It is a huge tourist attraction, in addition to being the most popular shopping enclave in the city-state. Often, the surrounding area is known simply as Orchard,[1] partly because the MRT station that serves the vicinity is named Orchard MRT.
The Orchard Planning Area is one of 55 urban planning areas as specified by the Urban Redevelopment Authority and is a commercial district. It is part of the Central Region and Singapore's central business district, the Central Area.
Orchard Road underwent a $40 million revamp in 2009, with the addition of new street lamps, planter boxes, urban green rooms, street tiling and flower totem poles, which have since been removed.Template:Clarify
Geography
Edit
After a more than a century as a two-way thoroughfare, Orchard Road became a one-way street in 1974.[2] The ever-lively street starts at the junction with Orange Grove Road which is the location of the Orchard Hotel. It then stretches southeast across the Scotts Road/Paterson Hill junction, Orchard MRT Station, Bideford Road, Somerset MRT Station, Central Expressway, Dhoby Ghaut MRT Station, and ends at the junction with Handy Road (just before Prinsep Street), where it becomes Bras Basah Road. It has an extensive underground infrastructure, including underground pedestrian walkways between the malls running underneath the street and other streets in the vicinity. The numbers begin at Handy Road and end at Orange Grove Road.
Orchard Road got its name from the nutmeg, pepper and fruit orchards or the plantations that the road led to in the mid-1800s. Commercial development began in the twentieth century and took off in the 1970s.
Orchard Road was already cut in the 1830s, though the new road was not named in George Coleman's 1836 Map of Singapore. In the 1830s the Orchard Road area was the scene of gambier and pepper plantations. Later, nutmeg plantations and fruit orchards predominated, hence its name.
By 1846, the spread of houses had reached up to Tank Road. There were none on the left side and only three or four houses went past Tank Road on the right side of Orchard Road.
One major sight during this period was a Dr Jun tending his garden, which helped endorse the road's name. He had a garden and plantation at the corner of what is now Scotts Road and Orchard Road.
Towards the later part of the 1840s, graveyards began to appear along the road. By 1846, the Chinese had a large graveyard around what is now the Meritus Mandarin Hotel and Ngee Ann City, while the Sumatrans from Bencoolen had their burial ground where the current Hotel Grand Central stands. Later a Jewish cemetery was established; it was located where Dhoby Ghaut MRT Station is now and was demolished in 1984.
In the 1860s, Orchard Road had a great number of private houses and bungalows on hills looking down through the valley where the road passed through. Early in the 1890s, King Chulalongkorn, the then King of Siam, acquired "Hurricane House" in the vicinity of Orchard Road through Tan Kim Ching, the Thai Consul in Singapore. Two further pieces of adjoining property were added later and these subsequently became the site of the Royal Thai Embassy at 370 Orchard Road.
In the early 20th century, it was noted that Orchard Road "present[ed] the appearance of a well-shaded avenue to English mansion[s]," comparable in its "quiet but effective beauty to Devonshire lanes." The Chinese called the area tang leng pa sat koi or "Tanglin market street." The Tamils refer to the road as vaira kimadam or "fakir's place", and muttu than (high ground), a reference to the hilly nature of the area.
Flash floods occurred at the road's iconic junction with Scotts Road on 16 June 2010 after 100mm of rain fell from 8 am to 11 am, reportedly the worst flood at the junction since 1984. Shopping malls along Orchard Road like Lucky Plaza and Liat Towers were affected. The flood had caused some shopping mall and car park basements to be submerged. Rescuers had to pull out about 70 passengers from cars and buses, as flooding shut down Orchard Road. Some people sustained injuries.[3]
Pedestrian Night
Edit
Every first Saturday night of each month, a section of Orchard Road will be closed and the road will be used as a temporary pedestrian street between Scotts Paterson Junction and Bideford Junction between 6pm -11pm from October 2014 to May 2015 and extended again from December 2015 to February 2016. Known as Pedestrian Night on Orchard Road, this six-month pilot initiative aims to inject street vibrancy into the precinct by creating an integrated community space with activities such as street tennis and mass yoga.
In 2014, Land Transport Authority said that pedestrianisation may not be a suitable long-term measure due to the Thomson-East Coast Line reducing the demand for bus services along Orchard Road, and proposed to ban all traffic except buses and cycles during peak shopping times. Optimisation of existing traffic signals along the street, including Pedestrian Countdown signals, have also been proposed. Land Transport Authority is concerned that in the long term traffic problems may affect trade on Orchard Road, which is now competing with new shopping centres and online shopping, resulted in the closure of department storse. In 2015, while during the general election, several MPs and residents inclusive of Chung Xiu Pei, favoured full pedestrianisation of the Orchard Road. After the general election in 2015, the street will be pedestrianized by 2020 from Scotts Road to Bideford Road in line with the car-lite environment under Khaw Boon Wan's policy.
House of Hung
Edit
House of Hung is a store that is located at Far East Shopping Centre. It is a collection of all the wedding jewelleries each time. Timothy Mok had went there on 6 July 2013, 17 August 2013, as well as 11 September 2013 and 22 September 2013, before subsequent outings to Orchard Road. The parent outings was with Tan Jun Yang, Tse Mun Hoi as well as Poh Jing Xiang and Timothy Mok.
Weekend Night
Edit
The pedestrian strip that stretches from Ion Orchard to Ngee Ann City was tented up and decorated with multi-coloured neon lights as the first in a series of monthly weekend events kicked off on Friday evening (May 3).
Over 8,500 visitors attended the first edition of Night At Orchard, said organiser Orchard Road Business Association (ORBA).
About 30 pop-up stores offering local fashion, five food trucks and live acts lined the bustling strip. The event will run from 5pm to 10pm on Saturday (May 4) and the next day.
The weekend night event is part of an eight-month long pilot to revitalise Orchard Road and showcase fashion, arts, street food, drinks and music with a different theme every month.
For the upcoming seven editions, the roving event will show up at different pockets of the shopping strip.
The locations are yet to be decided, but the programme line-up may be curated to coincide with special occasions such as National Day, the Singapore Grand Prix and Christmas, said an ORBA spokesman.
Night At Orchard comes as larger plans are underway to transform the 2.4km stretch into a more lively and green street.
In January, government agencies announced that new retail concepts, attractions, entertainment and events will be introduced to Tanglin, Somerset, Orchard and Dhoby Ghaut to strengthen Orchard Road's position as a lifestyle destination.
Part of the road may also go car-free to connect green spaces at the Istana Park, Dhoby Ghaut Green and the open space at Plaza Singapura.
Food trucks from local favourites such as Old Chang Kee to Michelin-starred restaurant Shisen Hanten by Chen Kentaro sold affordable street food at $10 and below on Friday night.
Shisen Hanten by Chen Kentaro sold its best-selling Chen's Mapo Tofu Don at $6.
The restaurant in Mandarin Orchard Singapore also created two items for the street event for easy consumption - chicken and pork wraps drizzled with its signature mala sauce.
"We wanted to make our Michelin-starred food not exorbitant, but affordable. Since the customers are not going to sit in a restaurant, we are not going to charge too much," said Ms Francine Loh, marketing communications manager at Mandarin Orchard Singapore.
"When you're walking along Orchard road, you wouldn't think of spending $20 on food because you just want to grab and go. That's why we adjusted our pricing."
The shopping belt is no stranger to night street events.
From 2014 to 2016, ORBA organised the Pedestrian Night where a 660m stretch of Orchard Road was closed to traffic on the first Saturday of every month.
The roads were filled with magicians, music performances, themed activities and contests.
Although the initiative attracted over 50,000 shoppers - twice the average Saturday night footfall - to each monthly event during its first six months, the higher traffic did not translate to better business in the shopping malls.
Visitors to Night At Orchard told The Straits Times that they enjoyed the event on Friday.
Mr Joel Loh, 20, who was drawn to the event when he saw the food trucks, said: "I've never bought food from a food truck before and you don't get to see food trucks at many places in Singapore. I also got to chat with the friendly owners while they were preparing my food."
The final-year Nanyang Polytechnic student added that he would attend future Night At Orchard events, because the space is not congested.
"The place is crowded, but I could still move around and find a spacious place to sit and have my food while enjoying the performance."
Currently, the stretch along Ion Orchard and Ngee Ann City has two food and beverage outlets - 7-Eleven and Mediterranean grilled kebabs outlet, Pita Tree.
With five food trucks located opposite the outlet, Pita Tree's business took a hit.
"Retail events and functions on the street are good for our business. But today, with more food options nearby, we are losing money.
"Compared to normal Friday night earnings, we made $500 to $800 less today," said Mr Suraj Kumar, the outlet's senior chef.
Notable past and present landmarks 
Edit
The Istana is at Orchard Road's eastern end. Nibong palms survive near its entrance, with a plaque that reads, "As the nibong is a mangrove palm, this site must have once been a mangrove swamp." This information leads many to believe Orchard Road was once a muddy swamp and these palms are remnants of that original habitat.
To the south of Orchard Road is former Prime Minister Lee Kuan Yew's house, located at 38 Oxley Road. It was slated for demolition when Lee Kuan Yew died or when his daughter, Lee Wei Ling, decided to sell and move out.
On the western side of Orchard Road is the Botanic Gardens. Along Scotts Road is Goodwood Park Hotel, a fine example of colonial architecture and a monument. At the junction of Scotts Road and Orchard Road is Tangs, the first upmarket department store in Singapore.
About halfway down Orchard Road are Cairnhill and Emerald Hill, where the rich Chinese built their residences, now prime properties sought after by affluent professionals and expatriates. Next to Emerald Hill is Centrepoint, which houses the supermarket Cold Storage, possibly the oldest surviving business establishment in the area. Other establishments have not been so fortunate. Amber Mansions, one of the earliest apartment blocks in Singapore, built around the turn of the 20th century, was torn down in the 1980s to make way for the Dhoby Ghaut MRT Station.
Specialists' Shopping Centre was one of the earliest redevelopment projects on Orchard Road. It occupied the site of the former Pavilion Cinema, which was demolished in 1979. Its flagship store was John Little, which has been in Singapore since the mid-19th century, when it opened its first outlet in Commercial Square (now Raffles Place). Specialists' Shopping Centre was itself demolished in 2007 to make way for a new development, Orchard Gateway.
Elsewhere just off Orchard Road on Scotts Road, Scotts Shopping Centre housed Singapore's first food court, which sat below the Ascott Singapore. It was torn down in June 2007 to make way for a new building.
The first shop of note on Orchard Road was Tangs founded in 1934 and established on Orchard Road in the 1950s.
Orchard Road is flanked by pedestrian malls. Orchard Road contains numerous upmarket restaurants, coffee chains, cafés, nightclubs and hotels. It is the site of the official residence and office of the President of Singapore, the Istana.
Tanglin Mall is located at the junction of Tanglin Road and Grange Road. Its customer base is made up of expatriates, yuppies and professionals. Anchor tenants include Tanglin Market Place, a gourmet supermarket and bakery, and Tasty Food Court where up to 15 varieties of local cuisine can be found.
Orchard Central distinguishes itself from other malls on Orchard Road with architectural and design forms. Fronted by an exterior featuring local artist Matthew Ngui's digital art membrane, the mall offers cluster concept shopping by grouping complementary offerings for shoppers. The mall houses the world's tallest indoor Via Ferrata climbing wall, a large collection of public art installations by international artists and a 24/7-operational Roof Garden and Discovery Walk. The Roof Garden offers dining options on an open-air veranda.
313@somerset is directly linked to the Somerset MRT station and features a concentration of mid-range retail and dining outlets. Retail options are made of a mix of local and global fashion labels including Zara, Uniqlo, New Look, Esprit and a Forever 21 flagship store that spans four floors.
Visitors in Singapore (from 27 May to 24 July 2011) qualified for Great Singapore Sale tourist privileges and discounts at malls along Orchard Road. During this period, a number of malls extend their opening hours till 11pm.[4]
American fashion retailer Abercrombie & Fitch opened a flagship store on Orchard Road on December 15, 2011. The store was marked by controversy over an ad during its construction phase.[5]
List of shopping centers
Edit
DFS Galleria — This duty-free shopping mall is on Scotts Road, and mainly sells luxury item such as Bottega Veneta, Louis Vuitton, Prada, Gucci, Hermès, Loewe and Bvlgari.
ION Orchard — ION Orchard opened on July 21, 2009 and houses six double-storey flagship stores of close to Template:Convert each, including Prada, Giorgio Armani, Louis Vuitton, Dior, Dolce & Gabbana, Cartier and Patek Philippe. Its signature glass façade doubles up as a giant media screen as well.
Christmas light-up
Edit
Each Christmas, Orchard Road is decorated with Christmas lights. The following celebrities had switched on their lights:
2003 - Nanyang Girls' High School (11 November 2003 to 2 January 2004)
2004 - Toshiba Corporation (11 November 2004 to 2 January 2005)
2005 - Bedok View Secondary School (13 November 2005 to 4 January 2006)
2006 - Vivek Ganesh (12 November 2006 to 5 January 2007)
2007 - Angeline Wong, Kimberlee Lim (11 November 2007 to 6 January 2008)
2008 - Saw Yan Naung, Suttikit Ittipalanukul (10 November 2008 to 7 January 2009)
2009 - Yseult Yeo, Neo Meusia (4 November 2009 to 4 January 2010)
2010 - 4 Raffles Girls' School students (11 November 2010 to 5 January 2011)
2011 - Deborah MegaGeek (13 November 2011 - 4 January 2012)
2012 - Leng Yuk, Gwendolyn Ng, Claudia Sim, Jingwen Zhang (10 November 2012 - 6 January 2013)
2013 - Charmaine Tang, Samantha Lovell Tan, and 2 School of Science and Technology students (20 November 2013 - 5 January 2014)
2014 - Gwendolyn Koh (14 November 2014 - 4 January 2015)
2015 - Angelica Muk, Sheryl Teo (12 November 2015 - 4 January 2016)
2016 - Chung Xiu Pei (11 November 2016 - 4 January 2017)
Holiday Inn Singapore Orchard City Centre - renamed from Holiday Inn Park View Singapore
Goodwood Park Hotel Singapore
York Hotel Singapore
Elizabeth Hotel Singapore
Royal Plaza on Scotts Singapore
Grand Hyatt Singapore - rebranded from Hyatt Regency Singapore
Singapore Marriott Hotel - formerly Dynasty Hotel Singapore
Mandarin Orchard Singapore - rebranded from Meritus Mandarin, prior to that Mandarin Singapore
Grand Park Orchard Singapore - rebranded from Park Hotel Orchard, formerly Crown Prince Hotel
Concorde Hotel Singapore - formerly Le Meridien Singapore
Four Seasons Hotel Singapore
The Regent Singapore
Hilton Singapore
Shangri-La Hotel Singapore
Traders Hotel Singapore
Orchard Parade Hotel Singapore
Orchard Hotel Singapore - managed by Millennium & Copthorne
St. Regis Singapore
Quincy Hotel Singapore - managed by Far East Hotels
Former notable hotels
Edit
Hilton Hotel
Edit
Hilton Hotel is a hotel in Orchard Road, Singapore where Cynthia Low's wedding is held here. It is on 7 October 2012.
Hyatt Hotel
Edit
Hyatt Hotel is a hotel in Orchard Road, Singapore where Genevieve Lim's wedding is held here. It is on 18 June 2011.
Shangri-La Hotel
Edit
Shangri-La Hotel is a 5-star deluxe hotel in the Orange Grove Road, Orchard Road, Singapore. It is the flagship hotel in the Shangri-La Resorts.
The hotel is the annual host of the meeting of defence ministers, permanent heads of ministries and military chiefs of 28 Asia Pacific states that has become known as the Shangri-La Dialogue since 2002. At the same time, Kevin Choo and Julie Koh got married at this hotel on 1 March 2008, before having two babies such as Lindsay Choo (b. 2010) and Jaden Choo (b. 2012). They are born in 1978.
Transport
Edit
Public transport
Edit
Mass rapid transit (underground trains)
Edit
There are three major MRT stations in the Orchard Road vicinity: Orchard, Somerset and Dhoby Ghaut MRT stations.[9] These stations are important hubs for commuters, locals, students and tourists who travel to the Orchard Road shopping and business district.
Bus services provided by SBS Transit, SMRT Buses and Tower Transit Singapore provide access to Orchard Road. Bus stops are staggered to avoid causing congestion, with the scheme being implemented on 13 May 2004 (1st Phase, Mandarin Orchard Singapore) and 28 May 2004 (2nd Phase, Midpoint Orchard). A bus lane was introduced in 2005, operational from 7.30am to 8pm, Monday to Saturday. It was extended to 24 hours in 2016. The major bus stops along Orchard Road are situated at:
Westbound passengers can board their buses at Penang Road (Dhoby Ghaut Station), Somerset Road (Somerset Station), Orchard Turn (opp Ngee Ann City/Takashimaya), Orchard Turn (Orchard Station), Orchard Boulevard (opp Orchard Station) and Orchard Boulevard (Wheelock Place).
Orchard Road has numerous taxi stands, which are mostly found at shopping centres and hotels. It is prohibited to hail taxis at locations other than these official stands.
Vehicular access
Edit
Those driving into Orchard Road may enter from the west via Napier Road. Vehicles from Dunearn Road that travel via Scotts Road can turn left into Orchard Road at the Marriott Hotel junction. Vehicles coming from the opposite direction on Paterson Road can enter Orchard Road by turning right. There are also a number of other roads leading into Orchard Road. Orchard Road is one-way heading south and leads into Bras Basah Road which is a one-way street heading south.
Orchard Turn is a road that goes from Orchard Link to Orchard Boulevard. The Knight Bus terminates at Orchard Turn (Ngee Ann City) in December 2005, whereas a lot of people such as Wong Waisiang, Cory Lai and JingXuan Phoebe uses this road. In 29 October 2006, the bus stop at Orchard Boulevard (09023) was relocated to Orchard Turn.
Residences
Edit
The Peak @ Cairnhill is a condominium in Orchard, Singapore, which is about 18 stories. The house was recently completed in 2015, and showcased about 1-bedroom and 2-bedroom units, inclusive of the swimming pool, the football fields and multi-purpose indoor sports hall, which has the smallest bedroom length from 40 sq ft to 80 sq ft.
Pedestrian Night on Orchard Road
Edit
Pedestrian Night on Orchard Road will involve the closure of a 660-metre section of Orchard Road, between the junction of Scotts Road/Patterson Road and the junction of Bideford Road/Orchard Link between 1800hrs to 2300hrs.
On these days, the designated dates are:
4 October (Saturday)
1 November (Saturday)
6 December (Saturday)
3 January (Saturday)
The bus services listed above will be diverted during Pedestrian Night. All other bus services that call at the above-mentioned bus stops will not be diverted as their operating hours do not coincide with Pedestrian Night.
All diverted bus services, except 14, 16, 65 & 175 eastbound will call at bus stop 13199 Paterson Lodge (Paterson Road) during Pedestrian Night. Services 14, 16, 65 & 175 westbound will still continue to call at this bus stop. Commuters who are traveling to Tang Plaza, Lucky Plaza or Orchard MRT should alight here and walk to their destination.
During the diversion, traveling time on affected services will increase due to the heavy traffic along Grange Road and Orchard Link. Do plan additional traveling time if you are heading towards the city during Pedestrian Night.
References
Edit
National Heritage Board (2002), Singapore's 100 Historic Places, Archipelago Press, [[]]
Victor R Savage, Brenda S A Yeoh (2003), Toponymics - A Study of Singapore Street Names, Eastern Universities Press, [[]]
RedDot Publishing Inc (2005), The Official Map of Singapore, RedDot Publishing Inc.
100mm of rain fell within 3 hours, causing floods, http://news.xin.msn.com/en/singapore/article.aspx?cp-documentid=4153228
External links
Edit
Template:Major roads in Singapore
Community content is available under
CC-BY-SA
unless otherwise noted.