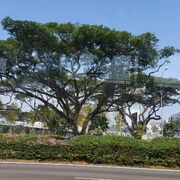 Singapore Changi Airport Template:Airport codes, Changi International Airport, or simply Changi Airport, is the main airport in Singapore. A major aviation hub in Southeast Asia, it is about Template:Convert north-east[1] from the commercial centre in Changi, on a Template:Convert site.
The airport, operated by the Changi Airport Group, is the home base of Singapore Airlines, Singapore Airlines Cargo, SilkAir, Scoot, Tigerair and Jetstar Asia Airways. As of May 2013, Changi Airport serves more than 100 airlines operating 6,400 weekly flights connecting Singapore to over 250 cities in about 60 countries and territories worldwide.[2] Until 30 March 2013, the airport served as a secondary hub for Qantas, which used Singapore as the main stopover point for flights on the Kangaroo Route between Australia and Europe. Qantas was the largest foreign airline to operate from the airport, with over two million passengers annually. An important contributor to the economy of Singapore, more than 28,000 people are employed at the airport, which accounts for over S$4.5 billion in output.
Changi Airport has three passenger terminals with a total annual handling capacity of 66 million passengers. Terminal 1 opened in 1981, followed by Terminal 2 in 1990 and Terminal 3 in 2008. The Budget Terminal, opened on 26 March 2006 and closed on 25 September 2012, will make way for Terminal 4 which will be ready by 2017.[3]
In 2012, the airport handled 51.2 million passengers, a 10% increase over the previous year. This made it the seventh busiest airport by international passenger traffic in the world[4] and the second busiest in Asia by international passenger traffic in 2012. The airport registered 4.92 million passenger movements in December 2012, a growth of 8.6% year-on-year. Changi's daily record was broken on 22 December 2012, the Saturday before Christmas Day, with 180,400 passengers passing through the 24 hours. In addition to being an important passenger hub, the airport is one of the busiest cargo airports in the world, handling 1.81 million tonnes of cargo in 2012. The total number of commercial aircraft movements was 324,722 in 2012.[5]
The airport has won over 430 awards since 1981, including 30 'Best' awards in 2012. Changi Airport's efforts to counter the onset of age include periodic physical upgrades to its existing terminals and building new facilities.[5]
Template:Refimprove section Singapore's International Airport at Paya Lebar, Singapore's third main civilian airport after Seletar Airport (main airport from 1930–37) and Kallang Airport (1937–55) opened in 1955 with a single runway and a small passenger terminal. With growth in global aviation transport, the airport was facing congestion problems. Its inability to cope with the rising traffic became critical by the 1970s; annual passenger numbers rose dramatically from 300,000 in 1955 to 1.7 million in 1970 and to 4 million in 1975.
The government had two options: expand the existing airport at Paya Lebar or build a new airport at another location. After extensive study, a decision was made in 1972 to keep the airport at Paya Lebar, as recommended by a British aviation consultant. Plans were made for the building of a second runway and an extensive redevelopment and expansion to the passenger terminal building. A year later, however, the plans were reviewed again as the pressure to expand the airport eased because of the 1973 oil crisis.
Concerned that the existing airport was located in an area with potential for urban growth, which would physically hem it in on all sides, the government subsequently decided in 1975 to build a new airport at the eastern tip of the main island at Changi, at the existing site of Changi Air Base, where the new airport would be easily expandable through land reclamation. However, as there was an increase in traffic, the airport still had to be expanded at that time. In addition, airplanes could fly over the sea, avoiding noise pollution issues within residential areas like those at Paya Lebar and helping to avoid disastrous consequences on the ground in the event of an air mishap. The airport in Paya Lebar was subsequently converted for military use as the Paya Lebar Air Base.
After Singaporean authorities decided to build a new airport, Singaporean government dispatched an inspection team to Taiwan in 1979, watching and learning the design of newly built Chiang Kai-shek International Airport (later renamed to Taiwan Taoyuan International Airport). Singaporean staff had immediately adopted Taiwan Taoyuan International Airport's design - single terminal with surrounding highways, and two runways aside the terminal, making the Changi Airport initially look identical to Taiwan Taoyuan International Airport.
Construction
Edit
The airport was one of the largest single development projects in Singapore's history. Led by PSA chairman Howe Yoon Chong, land-reclamation works involving over Template:Convert of landfill and seafill began in June 1975, even as the airport at Paya Lebar was still in the midst of expansion works. About Template:Convert of swamp land was cleared and filled with Template:Convert of earth from the nearby hills, while another Template:Convert of sand from the seabed were used to reclaim land. The contractor was PentaOcean Construction (五洋建設), a Japanese construction firm directly involved in numerous land reclamation projects in Singapore. Canals were built to drain water from three rivers, Sungei Tanah Merah Besar, Sungei Ayer Gemuroh and Sungei Mata Ikan. In total, Template:Convert were reclaimed, raising the total site area to Template:Convert. Of this, landfill accounted for Template:Convert while seafill represented Template:Convert. The construction also demolished 558 buildings, exhuming around 4,100 graves, a Template:Convert gun emplacement at Changi, and diverting the three streams to the western side of the former Royal Air Force runway, which was to be used for the new Template:Convert runway. All of these works were completed in May 1977. From 1977 to 1979, it was used to pile-drive the foundation of Terminal 1 and other buildings as well. The foundation stone for Terminal 1 was laid in August 1979. The Template:Convert high control tower is built on reclaimed land, with its design becoming an icon for the airport. The original name of the control tower was "Airtropolis", but was seldom used. The column-free hangar with an area almost as large as the Padang could hold three Boeing 747s. Its roof was constructed in Batam, and was shipped to Singapore in four separate sections by barge. A special jetty was built on the coast to obtain fuel from the Western Islands by shipping it round the coast. The fuel is pumped for a mile to the airport fuel station run by six oil companies on the north-eastern perimeter. The pipelines then leads to all the parking bays through a pipe some Template:Convert below ground level.[6]
The first phase costing about S$1.3 billion opened on 1 July 1981 with the first flight, Singapore Airlines Flight 101, touching down at 0700 hours UTC with 140 passengers from Kuala Lumpur.[7] Officially opened with much fanfare five months later on 29 December 1981 by Howe Yoon Chong, the airport had 34 airlines operating 1,200 scheduled flights each week connecting Singapore to 67 cities in 43 countries. It ended its first year operations with 8.1 million passengers, 193,000 tonnes of air freight handled and 63,100 aircraft movements.[8]
Despite the airport opening in 1981, some sections were not completed. The big aircraft hangar was only completed in 1982, and the second runway was completed only in 1983. This was the year in which the now defunct government department, the Public Works Department decided to focus on the construction of the second runway on the reclaimed land east of the Terminal 1. The sections of phase 2 opened progressively over the next few years with the completion of a second runway as well as other facilities. In 1985, the construction work on Terminal 2 started, south of Terminal 1. Terminal 2 was completed in 1989, and was opened in November 1990 with its official opening on 1 June 1991 by Prime Minister Goh Chok Tong. The opening of the second terminal was way ahead of passenger demand.[6]
Expansion
Edit
The airport has a development policy of always building capacity ahead of demand to avoid congestion problems common in major airports and to maintain high service standards. While the original master plan detailed plans for two passenger terminals, provisions were made for further expansion, including the allocation of space for a third terminal planned to have a physical configuration mirroring that of Terminal 2.
Construction of this terminal, Terminal 3, began in 1999, at an estimated cost of about S$1.75 billion. Originally planned for completion in 2006, the date was postponed by two years after global economic downturn delayed growth of air traffic in the airport.[9] On 30 May 2006, a topping out ceremony for the terminal was conducted, and an open house was held from 12 November 2007 to 9 December 2007. Test flights were held from 12 November until 3 January where the baggage handling, check-in and ground handling systems were tested. The terminal became operational on 9 January 2008 with Singapore Airlines (SQ1) from San Francisco via Hong Kong being the first flight to arrive at the new terminal at 1156 local time (0356 UTC) and SQ318 at 1315 local time (0515 UTC) being the first departing flight. The terminal increases the airport's maximum passenger capacity annually by 22 million, bringing the total annual capacity up to 70 million passengers. Also, there is a new full-service nine-storey Crowne Plaza Hotel immediately adjacent to Terminal 3.
Changing needs in the aviation industry led to reviews in the master plan, resulting in the decision to cater to the high-end as well as budget sectors of the air travel industry. Although the pioneering airport to conceptualise and construct a Budget Terminal in Asia, it became operational on 26 March 2006, and was officially opened on 31 October 2006. A dedicated stand-alone "Commercially Important Person" (CIP) terminal operated by JetQuay, started operations on 15 August 2006[10] and officially opened on 29 September 2006.[11] It is the first luxury airport terminal in Asia.[12]
Even as new terminals are being built, the airport continuously upgrades and expands its existing terminals. Terminal 1 went through its first major refurbishment in 1995 at a cost of S$170 million, prior to the commencement of expansion works 3-year later to add 14 aerobridges at a cost of S$420 million, which was completed in 1999. Terminal 2 was similarly expanded almost immediately after its opening in 1990, with the addition of two piers of aerobridges costing S$330 million and completed in 1996. In 2002, work commenced on the new Changi Airport Skytrain as well as the Terminal 2 building, and on 13 September 2006, the airport marked the completion of an extensive upgrade costing S$240 million in Terminal 2, which included an updated glass-fronted facade, interior decor, and terminal layout modifications.
To prepare for the arrival of the Airbus A380, the airport put into place modifications works costing S$60 million, which it has planned for since the late 1990s. These included the building of 19 gates capable of handling the large aircraft, eight of which are in Terminal 3. Baggage claim carousels, runways, and taxiways were expanded, and two new freighter aircraft stands and two remote aircraft parking stands built. Two aircraft taxiway bridges spanning Airport Boulevard leading to the terminals also had shields installed on either side to shield the road from the jet blast. On 11 November 2005, the airport became the first outside Europe to receive the A380 for airport compatibility verification tests, and was the first in the world to have an operational triple-passenger loading bridge fit for trials.
Extensive upgrading works in Terminal 1 similar in scale to the recently completed works at Terminal 2 commenced in May 2008 and were completed in July 2012. The S$500 million T1 upgrading project has given the terminal a fresh and rejuvenated look. Works were carried out to refurbish the terminal's interior design and finishes, as well as improve passenger flow at key areas such as the Departure Check-in Hall, Departure Transit Mall and Arrival Hall. About 22,000 sqm have also been added to the building, bringing the total floor space of T1 to about 308,000 sqm. The larger floor area provides for more spatial comfort, better passenger flow, additional facilities and expanded retail and F&B offerings. A highlight of the revamped Departure Check-in Hall is the addition of the world's largest kinetic art sculpture. Known as Kinetic Rain, this sculpture is made up of a total of 1,216 bronze droplets, moving in synchrony to a specially choreographed dance every day.
Resurfacing works costing S$50m on its dual runways and older taxiways were announced in January 2007 along with improvements to the security systems of Changi Airport such as access controls and surveillance systems to make the airport safer for travellers. Transport Minister Raymond Lim also added that the "software" of the airport had to be improved as well. Terminal 3 was tested in 2007 to prepare for its 2008 opening.[13] From May 2008 to July 2012 Terminal 1 was upgraded at a cost of S$500 million.[14]
In 2006, a short runway (2,750 m (9,020 ft)) was opened for Changi Air Base (East) on the site, an interim measure in preparation for its eventual expansion for passenger flights. It will be the first element in what may double the area of the existing airport in the next few decades.
On 1 March 2012, Changi Airport Group announced that the Budget Terminal will be closed in September 2012 to make way for Terminal 4, which will be able to serve 16 million passengers a year. It will be designed to enable efficient passenger processing and quick turnaround of aircraft, and will not have aerobridges. The new terminal will also have a wide choice of retail and food & beverage offerings as well as passenger amenities that will better serve the needs of passengers.[15]
On 7 March 2012, Minister of State for Transport Josephine Teo announced in Parliament that a new multi-storey complex at the current Terminal 1 carpark will be built. The facility will house dedicated facilities to support fly-cruise and fly-coach travel options. When ready, Terminal 1's capacity will increase from 21 million to 24 million passengers per annum.[16]
Recently Changi Airport has also announced plans to reduce consumption of electricity and use recycled water at its terminal buildings over the next three years, as part of its contribution towards environmental sustainability. Currently, Changi Airport's annual terminal building electricity consumption is about 450 million kWh. The target will see Changi Airport reducing its terminal buildings' electricity usage by about 13.5 million kWh, generating savings of about S$2.4 million over the next three years.[17]
Minister of State for Transport Josephine Teo, who leads a 10-member Multi-agency committee that has been working on the blueprint which includes the construction of Terminal 5 (T5) - the airport's biggest passenger facility - a third runway for commercial flights, cargo complexes and other supporting infrastructure for around 18 months.
Announced on 19 August 2013 by Changi Airport Group, a new mixed-use complex will be developed on the car park site fronting Terminal 1 (T1) and will optimise the use of the 3.5-hectare plot of land. Construction of the new facility will begin next year. Codenamed 'Project Jewel', the complex will offer aviation and travel-related facilities, a wide range of retail offerings, as well as unique leisure attractions. The redevelopment will also expect Terminal 1 to be expanded to allow more space for the arrival hall, baggage claim areas and taxi bays, enabling T1's passenger handling capacity to increase to 24 million passenger movements per annum. Changi will be working with CapitaMalls Asia on the concept and plans of 'Project Jewel'. The completion of the complex would expect a joint venture partnership between Changi and CapitaMalls Asia to develop and manage Project Jewel.[18] Project Jewel is also being designed to be architecturally iconic, with an impressive view of the complex from both the Airport Boulevard and the sky. It will be designed by a consortium of design consultants led by world renowned architect Moshe Safdie, who designed Marina Bay Sands. A key feature of the complex will be a large-scale, lush indoor garden with a breathtaking waterfall. To be seamlessly connected to Terminals 1, 2 and 3, Project Jewel will serve as a node linking the three terminals, improving inter-terminal connectivity.
Growth in Traffic and Connectivity at Singapore Changi Airport[19]

| Airlines | 1981 | 1990 | 2005/2006 | 2010 | 2012 |
| --- | --- | --- | --- | --- | --- |
| Passenger Movements | 8.1 million | 15.6 million | 32.4 million (2005) | 42.0 million | 51.2 million |
| Airfreight Movements | 193,000 tonnes | 623,800 tonnes | 1.83 million tonnes (2005) | 1.81 million tonnes | 1.81 million tonnes |
| Country Links | 43 | 53 | 57 (Jun 2006) | >60 | >60 |
| City Links | 67 | 111 | >180 (Jun 2006) | >200 | >230 |
| Scheduled Airlines | 34 | 52 | 82 (Jun 2006) | >100 | >100 |
| Weekly Scheduled Flights | About 1,200 | About 2,000 | >4,100 (Jun 2006) | >5,400 | >6400 |
Accidents and incidents
Edit
26 March 1991: Singapore Airlines Flight 117, an Airbus A310 that departed from Kuala Lumpur, was hijacked by four men en route to Singapore. The hijackers wanted the plane refuelled so that they could fly to Australia. When the plane landed in Singapore, commandos stormed the flight, killing the four Pakistani hijackers, and leaving all other passengers and crew unhurt.[20]
4 November 2010: Qantas Flight 32, Airbus A380 "Nancy-Bird Walton", VH-OQA, suffered a serious failure of its left inboard engine(#2 engine). The flight landed safely, and all 440 passengers and 24 crew on board were unharmed. Cowling parts of the failed engine fell on Batam Island.[21]
Infrastructure
Edit
Infrastructure[22]
Taxiways
Length
Template:Convert
Width
Template:Convert
Passenger terminal buildings
Total
Floor area
Template:Convert
Handling capacity
66 million passengers
Parking bays
92 (aerobridge)
42 (remote)
Terminal One
Opened
1 July 1981 (operational)
29 December 1981 (official)
Floor area
Template:Convert
Handling capacity
21 million passengers
Parking bays
29 (aerobridge)
16 (remote)
Terminal Two
Opened
22 November 1990 (operational)
1 June 1991 (official)
Floor area
Template:Convert
Handling capacity
23 million passengers
Parking bays
35 (aerobridge)
11 (remote)
Terminal Three
Opened
9 January 2008 (operational)
25 July 2008 (official)
Floor area
Template:Convert
Handling capacity
22 million passengers
Parking bays
28 (aerobridge)
15 (remote)
Terminal Four[23][24]
Opens
2017
Floor area
Template:Convert
Handling capacity
16 million passengers
Parking bays
25 (aerobridge)
Terminal Five[25][26]
Opens
2023
Floor area
TBC
Handling capacity
30–50 million passengers
Parking bays
TBC
Budget Terminal
Opened
26 March 2006 (operational)
31 October 2006 (official)
Closed
25 September 2012
Floor area
Template:Convert
Handling capacity
7 million passengers
Parking bays
10 (contact)
JetQuay (CIP Terminal)
Opened
15 August 2006 (operational)
29 September 2006 (official)
Floor area
Template:Convert
Handling capacity
NA
Parking bays
0
Project Jewel
Proposed
TBC
Floor area
TBC
Handling capacity
NA
Given limited land resources in Singapore, the airport was designed for both current and future needs as the country's primary airport. The airport was designed to be capable of doubling in size using reclaimed land with enough space for two more runways and at least two new passenger terminal buildings.
The master plan for the existing airport initially involved a dual-terminal and dual-runway configuration over two phases with provisions for another two passenger terminals in the near future. Phase 1 included the construction for the first passenger terminal, the first runway, 45 aircraft parking bays, support facilities and structures, including a large maintenance hangar, the first fire station, workshops and administrative offices, an airfreight complex, two cargo agents' buildings, in-flight catering kitchens and a Template:Convert control tower,.[27] Construction for the second phase would commence immediately after the completion of Phase 1 and include the second runway, 23 additional aircraft parking bays, a second fire station and a third cargo agents' building.
Air traffic control tower
Edit
The Air traffic control tower (ATC) was constructed as part of Phase One of the Changi Airport redevelopment plan and it is 80 meters high.
Changi Airport has two parallel runways, 02L/20R and 02C/20C, each Template:Convert.[1] 02L/20R was completed and opened in 1981 as part of the airport's first phase. It has a displaced threshold of Template:Convert leaving the rest of the runway at Template:Convert long.[1] 02C/20C, formerly 02R/20L, was built completely on reclaimed land and opened with phase 2, Template:Convert apart from 02L/20R. Four instrument landing systems (ILS) are installed on the two runways to guide landing aircraft safely under all weather conditions. Both runways are also used by the Republic of Singapore Air Force as part of Changi Airbase (West).
A new parallel runway 02R/20L (named 01/19 when opened in 2004) was built Template:Convert to the east of 02C/20C, currently used only by Republic of Singapore Air Force aircraft as part of Changi Airbase (East). The existing Runway 3, currently used by the military, will be extended from 2.75 km to 4 km to handle larger passenger aircraft. Almost 40 km of new taxiways will also be built to connect the runway with the current airport. New facilities such as navigation aids, airfield lighting systems and a fire station will need to be built as well.[28]
There will also be a fourth runway at Changi East which was announced during the National Day Rally Speech in 2013.
Passenger terminals
Edit
Changi Airport currently has three terminals, T1, T2, and T3, with a total annual handling capacity of 66 million. Terminals 1, 2, and 3 are directly connected via a monorail people mover system, with airside passengers being able to freely move between the terminals without going through immigration. Transport within and between these three terminals is also provided by people movers and the skytrain system, although it is also possible to walk between the terminals on foot for landside visitors.
A former Budget Terminal, capable of handling 7 million passenger per year, was purpose-built for low-cost carriers. It was physically separated from the main terminals towards the south, where connections were possible via a free shuttle bus service to and from Terminal 2. Demolition began in 2013 to make way for a new and bigger Terminal 4, designed to cater mainly to budget carriers and regional airlines that operate single-aisle aircraft.[29][30]
Terminal 1
Edit
Singapore Changi Airport's oldest terminal operated as the sole terminal from its opening on 1 July 1981 right up until the opening of Terminal 2 nine years later. Configured in a H-shaped layout to maximise the number of aerobridges which may be built, it underwent two major upgrading works over its lifespan. A major refurbishment was completed in 1995 at a cost of S$170 million and work to extend two finger piers to add 14 aerobridges at a cost of S$420 million took place from 1996 to 1999. Today, the terminal spans an area of 308,000[31] m² and can accommodate a maximum passenger capacity of 21 million passengers a year.
On 7 March 2012, Minister for Transport Josephine Teo said that the open-air car park between Terminal 1 and Changi's iconic control tower will be redeveloped into a multi-use complex. This new complex will be integrated with the existing building, and will increase Terminal 1's public areas, pick-up driveways, and car park spaces. With this expansion, Terminal 1's handling capacity will increase from 21 to 24 million passengers per annum. The expansion of Terminal 1 will go together with Terminal 4.[32]
As of 12 July 2012, a $500 million facelift for Terminal 1 has completed.[33] It will be the terminals' biggest overhaul to date, involving works on its facade and halls under a theme called "Tropical City".[34] About 22,000 sqm have been added to the building, bringing the total floor space of T1 to about 308,000 sqm. The larger floor area provides for more spatial comfort, better passenger flow, additional facilities and expanded retail and F&B offerings. The refurbishment includes the installation of a two-part kinetic sculpture, Kinetic Rain, billed as the largest kinetic sculpture in the world.[35]
The Southwest Finger of Level 3 of Terminal 1 has the head offices of Jetstar Asia Airways and Valuair. Scoot also has its head office inside Terminal 1.[36]
Terminal 2
Edit
Terminal 2 opened on 22 November 1990 as part of Phase II in the original airport masterplan. Deploying a linear configuration parallel to the runways, it is located adjacent to Terminal 1 towards the south, and heralded the opening of the original skytrain system linking the two terminals via the landside. All Singapore Airlines and SilkAir flights moved to the new terminal when it opened, along with several Southeast Asian carriers including Malaysia Airlines, Philippine Airlines, PAL Express, and Royal Brunei Airlines. They were joined by several airlines, some of which are allied to Singapore Airlines, in particular Lufthansa, both fellow Star Alliance members. Air France was a former user before moving back to Terminal 1. Other former users include Air Canada and Austrian Airlines, which ceased operations to Changi in October 2006. Etihad Airways was the latest airline to operate from Terminal 2 when it commenced flights in September 2007. All Nippon Airways moved to Terminal 2 from 1 October 2008.[37] Now Singapore Airlines flights departing for Southeast Asia, Indian Subcontinent, the Middle East and Africa use this terminal. Airlines operating at Budget Terminal, including Tiger Airways, and Cebu Pacific, moved to Terminal 2 as the Budget Terminal closed for site redevelopment.
The fourth storey of the terminal houses the Civil Aviation Authority of Singapore.[38] In addition Terminal 2 houses the offices of the Air Accident Investigation Bureau of Singapore and Changi Airport Group.[39][40][41]
On 15 July 2013, Changi Airport unveiled its latest themed garden that boasts a dramatic display of vibrant colours and interactive technology – a first for Changi Airport, which has pioneered the concept of airport gardens since its opening in 1981. The new 'Enchanted Garden' – Changi Airport's fifth themed garden – takes pride in the spot where the Fern Garden once stood. It is open, free of charge, to passengers round-the-clock. An interactive and immersive experience, the Enchanted Garden "magically" comes to life with sight and sound, captivating visitors as they weave through the garden. Motion sensors trigger sounds of nature and blooming flowers while fibre-optic and LED lighting, embedded in the flooring, form a fascinating carpet of sparkling lights. There is also a pond containing Archerfish and Koi.[42]
Terminal 3
Edit
Terminal 3 became operational on 9 January 2008,[43] increasing the airport's annual passenger capacity by 22 million. The test flight out of Terminal 3 was a Singapore Airlines flight from Singapore to Perth. The flight departed T3 at 5:30 pm local time, landing in Perth International Airport at approximately 11:30 pm. The terminal has 28 aerobridge gates, with eight capable of handling the Airbus A380. While the other two terminals use separate waiting areas for different gates, Terminal 3 has common waiting areas for some of the gates.
Designed by CPG Corporation,[44] with Skidmore, Owings and Merrill designing the roof feature[45] and interior design by Woodhead,[46][47] Terminal 3 departs from the largely utilitarian architecture in the first two terminals. Like other new airports in the region, it has a structure mainly made of glass, with big transparent spaces inside the terminal. However, unlike these newer airports, it incorporates "natural" features and "warm" tone extensively to balance the sterile feel of glass and steel. For example, the column is given a wood-like cladding and the floor of the terminal is mostly cream/ beige colour. The roof has been designed to allow natural light to enter the building, with 919 skylights. A Template:Convert-high "Green Wall" with hanging creepers and waterfall was incorporated to enhance the tropical feel. The Green Wall, designed by Singapore based Landscape Design firm Tierra Design, also helps to regulate the internal temperature of the terminal with the occasional misting. The interior architecture of Terminal 3 recently won the Honour Award from ASLA,[48] bringing another coveted award to Changi Airport.
Singapore Airlines operated the first flights into Terminal 3 on 9 January 2008, with flight SQ001 from San Francisco via Hong Kong arriving at 1150 hours to a welcome ceremony by Minister for Transport and Second Minister for Foreign Affairs, Lim Siang Keat Raymond and the chairman of CAG, Liew Mun Leong. The first departure flight, SQ318, took off at 1250 hours bound for London-Heathrow. Since then, its regional and long-haul flights bound for North/South America, Europe, East Asia and Oceania depart from the new terminal while all other flights depart from Terminal 2, becoming the first and only airline to operate from multiple terminals in Changi Airport.
China Eastern Airlines, Jet Airways, Qatar Airways and United Airlines also moved operations to the terminal from 25 March 2008,[49][50] while Kingfisher Airlines launched services to Singapore using T3 in 2009. Garuda Indonesia, Saudi Arabian Airlines, Vietnam Airlines and Sri Lankan Airlines have also moved operations to T3 in 2011.[51] In 2013, Asiana Airlines and Lion Air have also moved operations to T3.[52]
Old Budget Terminal
Edit
Changi Airport was the second in Asia (after Kuala Lumpur International Airport) to open a dedicated terminal catering to the budget traveller. The name of the Budget Terminal was decided as a result of a naming contest open to the public.[53] The terminal is not included in the numbering scheme even though it is the third terminal to be opened when it opened on 26 March 2006 and Terminal 3 is actually the fifth terminal opened at the airport.
In order to offer lower landing fees, handling fees and airport taxes, it cuts back on amenities such as aerobridges, elaborate physical structures and decorations in the passenger terminal building. A range of duty-free shops and Food and Beverage outlets, and free internet terminals are available. There is no transfer facility at the Budget Terminal. Passengers who need to make transfers need to clear immigration (and get the appropriate visas at their homecountry if applicable), collect their luggage, clear customs, make their way to the main terminal by taking the zero-fare shuttle buses and check-in again with the respective airline.
In September 2008, expansion works costing $10 million began and took seven months to complete. The terminal is now able to handle seven million passengers a year, up from originally 2.7 million. There are more boarding gates, check-in counters, shops and dining options.[54] In addition, air-conditioning has been installed for arriving passengers.
On 2 March 2012, it was announced that the Budget Terminal will be closed on 25 September 2012 and demolished to make way for Terminal 4.[55] All airlines previously operating from the Budget Terminal moved to Terminal 2, after the last flight departed Budget Terminal at 2 am on 25 September. Construction of Terminal 4 will begin in 2013, and expected to be completed by 2017. It will have a capacity for 16 million passengers per annum, up from the previous 7 million of the Budget Terminal, and will not have aerobridges. It also promises to have a wider choice of retail and food and beverage offerings compared to the current Budget Terminal.[56][57][58] Terminal 4 will be designed to enable efficient passenger processing and quick turnaround of aircraft. That is because once the ASEAN Open Skies agreement is in place by 2015, passenger traffic will likely grow by at least five per cent each year.[59]
On 25 September 2012, Budget Terminal officially closed its doors to the public with its airlines operations moved to Terminal 2 on the same day.[60]
On 1 February 2013, demolition work for the Budget Terminal started and completed by June 2013.[29]
Terminal 4
Edit
Main article: Changi Airport Terminal 4
Terminal 5
Edit
A fifth terminal, Changi Airport Terminal 5 was originally planned to be Changi East since 2008 and was announced by Transport Minister Lui Tuck Yew in 7 May 2013. Terminal 5 will be built on 1,080 hectares of land in Changi East, making it one of the largest terminals in the world. The terminal can handle a capacity of 50 million passengers annually. Changi Airport will be able to cater to 135 million passengers per year. With the national carrier at Terminal 5, each airline alliance can also operate out of the designated terminals like London. Terminal 5 will be linked to the other terminals at Changi Airport. This will allow the expanded Changi Airport to be operated as a single, integrated airport for ease of transfer between different terminals, maximum passenger convenience and airfield operational efficiency.
Project Jewel
Edit
Announced in August 2013, this is a new terminal structure intended as a mix-use complex.[61] Situated on a 3.5 Hectare site where the Terminal 1 car park now resides. Essentially a new multistory underground car park will replace the existing facilities, while an indoor garden, with a waterfall, is built above. The new building will sit between the three existing terminal buildings, enabling passengers to transfer via the new complex, whilst being an attraction and shopping destination in itself. The design will consist of a circular structure, reminiscent of a doughnut, with a large garden located at the centre and water falling from the edge of the circular atrium opening.
As part of the project, Terminal 1 will be expanded to allow more space for the arrival hall, baggage claim areas and taxi bays. These enhancements will increase T1's passenger handling capacity to 24 million passenger movements per annum.
Terminal 5
Edit
A fifth terminal, Terminal 5 will be ready in the next decade as announced by Transport Minister, Lui Tuck Yew on 7 May 2013. Terminal 5 will be built on 1,080 hectares of reclaimed land in Changi East. The terminal could handle a capacity of 30 to 50 million passengers annually. With the addition of the fifth terminal, Changi Airport will be able to cater to more than 85 million passengers every year. With the national carrier at Terminal 5, each alliance of airlines such as SkyTeam and Oneworld could also operate out of dedicated terminals. If so, aviation experts say this will contribute to a more seamless travel experience. Terminal 5 is also expected to have more self-service facilities and bigger lounges.[25][26]
JetQuay CIP Terminal
Edit
JetQuay CIP Terminal is a privately run terminal, located next to T2. JetQuay provides private check-in, baggage handling, and immigration clearance services. It is the second luxury airport terminal in world to open after the Lufthansa First Class Terminal in Frankfurt Airport. However, unlike the Lufthansa First Class Terminal, JetQuay is an elite, dedicated CIP (Commercially Important People) terminal that can be used by any passenger travelling in any class, on any airline, through any of the main terminals (T1, T2, or T3).
Airbus A380 operations
Edit
With Changi-based Singapore Airlines being the launch customer for the Airbus A380, works to ensure full capability in handling the large aircraft were given priority in time for its introduction in October 2007. The Civil Aviation Authority of Singapore spent S$60 million in upgrading the two existing terminals and airport infrastructure, including enlarged gate holdrooms, new finger piers, and extended baggage belt carousels from the normal Template:Convert to Template:Convert. With these new carousels in place, the airport does not expect embarking and disembarking passengers and baggage from the A380 to take longer than it does from a Boeing 747-400, which carries fewer passengers. On 16 August 2005, Changi Airport unveiled the first of 11 specially-built gates capable of handling the giant aircraft. Costing S$15 million, the gates or 'fingers' enable passengers to board the upper deck of the new 555-seater aircraft directly from the gate hold rooms. The hold rooms themselves have been enlarged and appointed to cater for the larger number of passengers aboard an A380. Beside the 11 new A380-capable gates at Terminals 1 and 2, eight more A380-capable gates were opened at Terminal 3 on 9 January 2008.[62]
Since the first A380 flight took off from Singapore to Sydney in 2007, Changi Airport has handled more than 20,000 A380 flights. Today, Changi Airport is the world's busiest multi-carrier A380 hub, with more than 200 weekly A380 flights operated by Emirates, Lufthansa, and Singapore Airlines connecting to 12 cities worldwide—Dubai, Frankfurt, Hong Kong, London, Los Angeles, Melbourne, New York, Paris, Shanghai, Sydney, Tokyo, and Zurich.
Self-Boarding Gates
Edit
Passengers at Changi Airport will soon be able to board their flights faster, with the introduction of self-boarding gates.The Changi Airport Group (CAG) has been conducting trials of the self-boarding gates at a common gatehold room in Terminal 2 since May with Lufthansa. The self-boarding gates are just one component of a fast and seamless travel (FAST) initiative which CAG will be rolling out across terminals at the airport. From April 2014, the gates will be progressively introduced in common gatehold rooms in all three terminals.
​List of airlines
Edit
| Airline | Terminal | Destinations |
| --- | --- | --- |
| Cathay Pacific | 1 | Hong Kong |
| China Southern Airlines | 1 | Guangzhou |
| Scoot | 2 | Taipei-Taoyuan |
| Singapore Airlines | 2 | Bangkok (Suvarnbhumi), Denpasar |
| Singapore Airlines | 3 | Taipei-Taoyuan |
| Thai AirAsia | 1 | Bangkok (Don Mueang) |
| Tigerair | 2 | Guangzhou, Taipei-Taoyuan |
| United Airlines | 2 | Hong Kong |
Ground transportation
Edit
Changi Airport was built with ground-transportation considerations in mind from the onset, with the East Coast Parkway built and opened in tandem with the airport, providing a direct link to the city-centre. At a distance of about 20 km (12 mi), the expressway was built almost entirely on reclaimed land, thus minimising disruptions to the existing road network in Singapore's East Coast.
The airport is also connected through the MRT station at Changi Airport, opened on 8 February 2002, it connects to Pasir Ris and Joo Koon of the East West Line. The two-stop branch from Tanah Merah also has a same stop at Expo.
Taxis are available at all taxi stands at the arrival hall of the terminal. There is an additional trip surcharge of $3 (weekday) and $5 (weekend) for all trips originating from the airport.
Changi Airport has a bus terminal located at each of the basements. PTB2 and PTB3 are connected through Changi Airport MRT Station.
Buses terminating first make a quick stop at PTB3 terminal, before proceeding to PTB1 and PTB2. At PTB2, bus drivers will get off the bus to update the information about the trip before coming back to the bus, during which the buses will park directly at the sawtooth berths. Passengers can remain on board and need not alight. Due to heightened security concerns, buses can only enter the basements after auxillary police officers have physically boarded and inspected them.
The buses that are looping at the terminal include:
24 (from Ang Mo Kio)
27 (from Hougang Central, Sengkang & Tampines)
34 (from Punggol & Tampines)
36 (from Orchard Road, but it is also an "Airlinks" Service)
53 (from Bishan)
858 (from Yishun, Sembawang & Woodlands)
There is a free shuttle bus from Changi Airport T3 to Changi Business Park, operating at lunchtime intervals on Monday to Friday and is a 9-stop route.
References
Edit
↑ 1.0 1.1 1.2 Aerodrome Geographical and Administrative Data, Services and Facilities and Meteorological Information and Runway Physical Characteristics
↑

Script error

↑

Script error

↑

Script error

↑

Script error

↑

Script error

↑

Script error

Template:Dead link
↑

Script error

↑

Script error

↑

Script error

↑

Script error

↑

Script error

↑

Script error

↑ "Greener Airport" , WIDN News, 15 November 2010
↑

Script error

↑

Script error

↑

Script error

↑

Script error

↑

Script error

↑

Script error

↑

Script error

↑

Script error

↑

Script error

↑

Script error

↑ Steering committee set up to chart Changi Airport's future development. Channel NewsAsia (7 March 2012). Retrieved on 2012-08-15.
↑

Script error

↑

Script error

↑

Script error

↑ "Singapore Air Operators." (Archive) Civil Aviation Authority of Singapore. Retrieved on 31 October 2012. "#034-30 Passenger Terminal Building 1, Level 3, Southwest Finger, Singapore Changi Airport, Singapore 918141" and "#034-30 Passenger Terminal Building 1, Level 3, Southwest Finger, Singapore Changi Airport, Singapore 918141" and "80 Airport Boulevard, #041-60A Changi Airport Terminal 1, Singapore 819642"
↑

Script error

↑ "Contact Us." Civil Aviation Authority of Singapore. Retrieved 12 February 2011. "Civil Aviation Authority of Singapore 60 Airport Boulevard 4th Storey, Terminal 2 Singapore Changi Airport Singapore 819643"
↑ "Contact AAIB." Air Accident Investigation Bureau of Singapore. Retrieved 4 October 2010. "AAIB Office: Singapore Changi Airport Passenger Terminal Building 2, #048–058 Republic of Singapore"
↑ "map_high.jpg." Changi Airport Group. Retrieved 12 September 2011.
↑ "Changi Airport Interactive Map." (SWF) Changi Airport. Retrieved 12 February 2011.
↑

Script error

↑

Script error

↑

Script error

↑

Script error

↑

Script error

↑

Script error

↑

Script error

↑

Script error

↑ China Eastern Airlines, Jet Airways, Qatar Airways and United Airlines Ready for Take-Off at Changi Airport Terminal 3. (PDF) . Retrieved on 2012-08-15.
↑

Script error

↑

Script error

↑

Script error

↑

Script error

↑

Script error

↑ New Changi Terminal 4 to replace Budget Terminal. Channelnewsasia.com (1 March 2012). Retrieved on 2012-08-15.
↑ Changi's Budget Terminal to make way for new and improved terminal. Channelnewsasia.com (29 February 2012). Retrieved on 2012-08-15.
↑

Script error

↑

Script error

↑

Script error

↑ http://www.changiairportgroup.com/export/sites/caas/assets/media_release_2013/Media-Release-CAG-to-Develop-Iconic-Mixed-Use-Complex_19-Aug-2013_web.pdf
↑

Script error
Community content is available under
CC-BY-SA
unless otherwise noted.